Chocolate Peanut Butter Chia Seed Pudding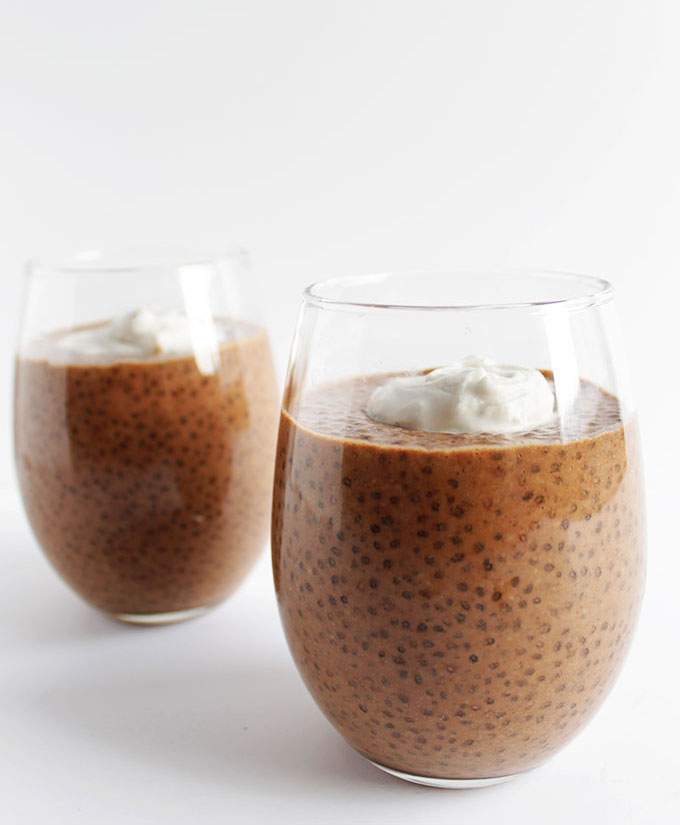 Recipe type:
Dessert, Breakfast
Cuisine:
Gluten Free, Healthy
2 cups unsweetened almond milk (Can sub unsweetened cashew milk or dairy milk. I would avoid coconut milk, otherwise you will end up with a strong coconut flavor).
¼ cup chia seeds
¼ cup unsweetened cacao powder, or cocoa, sifted (This is a good place to use antioxidant-rich cacao powder, the raw version of cocoa powder).
½ teaspoon cinnamon (optional)
Pinch fine sea salt
¼ cup creamy peanut butter
3 to 4 tablespoons honey
FOR TOPPINGS (OPTIONAL):
Chocolate chips
Sliced bananas
Extra peanut butter
Other fresh fruit
In a medium-size mixing bowl add all of the ingredients. Whisk vigorously until everything is well combined.
Taste a little and add more honey until it reaches your desired sweetness. Cover and place in the fridge for 5 to 8 hours; 8 hours is best. The fiber in the chia seeds will have expanded creating a thick pudding-like consistency.
Give the pudding a good stir and transfer it to serving dishes. Top with toppings, if desired (ideas listed in ingredients list above). Serve immediately.
The pudding stores well in the fridge for up to 4 to 5 days. Give it a good stir each time before serving. The pudding tends to get a little bit thicker as it continues to sit. If it thickens too much for your liking stir in a teaspoon of unsweetened almond milk at a time until it thins out to your desired consistency.
Prep time does not include time needed for the pudding to set up in the fridge.
Recipe by
Robust Recipes
at http://robustrecipes.com/chocolate-peanut-butter-chia-seed-pudding/